Traffic Administration Course
The Traffic Administration Course (TAC) is an introductory course in transportation planning and traffic engineering and management. This course is intended for professionals who want an introduction to transportation planning process in the Philippines. The first module identifies and discusses major challenges in the field of transportation planning and explains how land use influence travel behavior. Module 2 exposes the participants to the purpose of traffic engineering and management. The emphasis of this module is the understanding of the engineering concepts and application of these concepts in the design, operation and management of transportation system. Other modules included in the course are: fundamentals of traffic impact assessment, road traffic safety programs, mobility management and public transportation planning.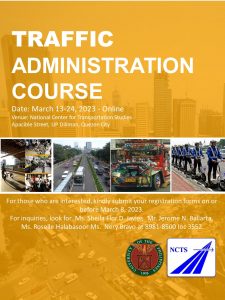 There is also a section which introduces the common data analysis used in transportation planning. Another module  introduces the institutional structure of transportation planning including the particular roles of local government units and national government agencies in in transportation planning and how they interact with each other.
Target Participants
Municipal/City planners, Municipal City engineers, traffic engineers, transportation planners, local and national government personnel involved in transportation-related functions.
Objectives
At the end of the training, the participants will be able:
1. To become familiar with the transportation and traffic issues relevant to local traffic context;
2. To enhance their knowledge and skills in planning management, and administration of transportation programs; and
3. To establish professional and friendly relationships among experts and other participants.
Course Outline
Module 1:  Introduction to Transportation Planning
Module 2:  Introduction to Traffic Engineering and Management
Module 3:  Fundamentals of Traffic Impact Assessment
Module 4:  Road Traffic Safety
Module 5:  Mobility Management
Module 6:  Introduction to Public Transportation Planning
Module 7:  Data Collection Management
Module 8:  Institutional Framework
Participation Fee
Php 9,520.00 (Inclusive of 12% VAT) per person, covers pdf copy of the course materials and training certificate with holder.