Traffic Impact Assessment (TIA) for Preparer
Traffic impact assessment is a tool for engineers and planners to determine the possible impacts of urban and regional development projects, such as malls, housing, schools and commercial establishments on the transportation and traffic system. The main purpose of the TIA preparation is to identify roadway and intersection geometry requirements and improvements that may be needed to accommodate the additional traffic of a particular development. Therefore, TIA preparer must be a qualified professional with specific training and experience in traffic and transportation engineering and planning. This training program will provide a comprehensive understanding of the overall purpose, conceptual framework, scope, processes, techniques and analytical and traffic engineering and transportation planning theories in Traffic Impact Assessment (TIA)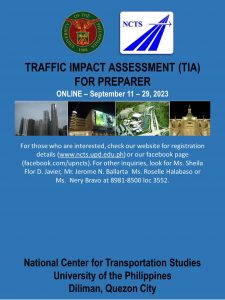 Target Participants
Traffic engineers, urban transportation planner, land and property developers, architects, environmental impact assessment consultants, environmental planners and highway and design engineers
Objectives
At the end of the training, the participants will be able:
1. To discuss the scope of a TIA and when a TIA is required;
2. To explain the process and procedures of TIA preparation;
3. To explain the analytical and traffic engineering and transportation planning theories related to TIA;
4. To discuss the transportation assessment principles and procedures
5. To identify the potential impacts of the proposed development on the current transportation system;
6. To evaluate the traffic conditions of the base year and future years of the proposed development using LocalSim; and
7. To identify specific mitigation measures that will address any potential adverse impacts of the proposed development.
Pre-Requisite
Traffic Administration Course
Participation Fee
Php 18,500 (inclusive of 12% VAT) per person, covers pdf copy of the course materials and training certificate with holder.