The University of the Philippines National Center for Transportation Studies (UP-NCTS), in cooperation with the Transportation Science Society of the Philippines (TSSP) and the Eastern Asia Society for Transportation Studies (EASTS) will be holding the webinar: Bicycle Infrastructure Planning and Design for the Pandemic and Beyond – Part 2 entitled:
BICYCLE PROMOTION PLAN AND SPACE DESIGN GUIDELINES IN JAPAN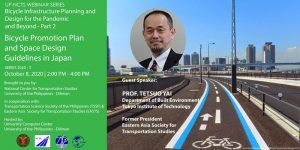 Speaker:
Prof. Tetsuo Yai
Professor, Department of Built Environment, Tokyo Institute of Technology
Former President, Eastern Asia Society for Transportation Studies (EASTS)
Date, Time:
October 8, 2020 (Thursday)
2:00 PM – 4:00 PM
Program: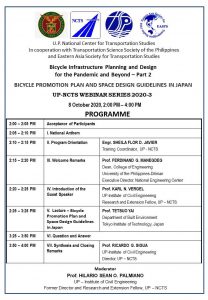 This particular webinar will be streamed live via NCTS Facebook page: (https://www.facebook.com/upncts)
Background
The restrictions put in place to limit the impacts of Covid-19 had a widespread impact on transportation and people's travel behavior. One of the biggest impacts has been the reduction in road transport activity. In the Philippines, public transport services were suspended during lockdown and cycling became the viable and sustainable transport option for the workers and frontliners. Local government units now recognize the need to develop bicycle networks in their own localities.
The U.P. National Center for Transportation Studies, which has a pool of experts in the field of transportation planning, traffic engineering and management, developed a two-part webinar series on bicycle infrastructure planning and design to guide planners and engineers in the development of bicycle networks in their localities and to establish programs that support and encourage cycling.
1. Bicycle Facilities Planning and Design for the Pandemic and Beyond (Dr. Ricardo G. Sigua) – August 17, 2020 (2:00 PM – 4:00 PM)
2. Bicycle Promotion Plan and Space Design Guidelines in Japan (Prof. Tetsuo Yai) – October 8, 2020 (2:00 PM – 4:00 PM)