Generally, road traffic causes significant dangers  to people working on the roads. Roadworks, on the other  hand, can put other road users in  a dangerous situation. It is in this context that  Department of Public Works and Highways  developed the Road Works Safety Manual for  use throughout the Philippines. This manual  is intended for roadwork and bridgework sites  when providing signage and traffic management  to warn, guide and control traffic. The principles  in the manual aim to maximize the safety of  workers and the public during roadworks. The UP National Center for Transportation  Studies in cooperation with the Department of  Public Works and Highways offered this Road  Works Safety Course to provide a uniform  approach to worksite traffic management  through the use of standard signs and layouts  that can be applied to most road work situations.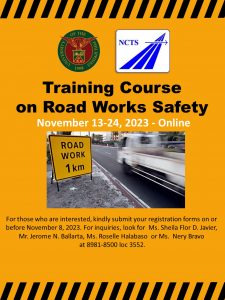 Target Participants
Municipal/City planners, Municipal City engineers, traffic engineers, transportation planners, local and national government personnel involved in transportation related functions.
Objectives
At the end of the training, the participants will be able:
1.To enhance their knowledge and skills about traffic management and road safety during road maintenance and construction;
2.To standardize traffic control on worksites using the Road Works Safety Manual of the Department of Public Works and Highways ; and
3.To demonstrate safe working methods into actual road works situations
Course Outline
Module 1: Introduction to Worksite Traffic Management
Module 2: Worksite Layout of Signages and Devices
Module 3: Signs for Worksites
Module 4: Traffic Control Devices and Traffic Controllers
Module 5: Introduction to Road Works Safety Manual
Module 6: Traffic Management Plan during Road Works
Workshops and Presentation
Participation Fee
Php 9,520.00 (Inclusive of 12% VAT) per person, covers pdf copy of the course materials and training certificate with holder.