Archives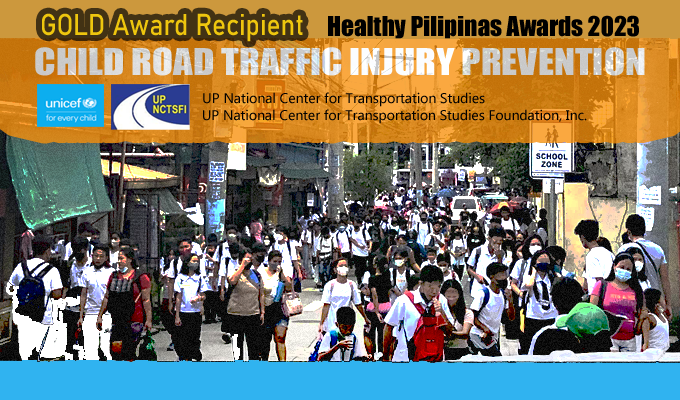 UNICEF, UP NCTS, Others: Child Road Traffic Injury Prevention Partnership Earns Acclaim
The Department of Health recently recognized UNICEF for its outstanding contribution to health promotion in the Philippines. The prestigious Healthy Pilipinas Gold Awards for Partners 2023 was conferred upon UNICEF during the awarding ceremony held on October 27, 2023, at the PICC, presented by the Department of Health.
UNICEF received accolades for its pivotal involvement in the Child Road Traffic Injury Prevention (CRTIP) Project since its inception in 2019. Alongside several organizations such as Human Development and Empowerment Services Incorporated (HDES), ImagineLaw, Philippine Legislators' Committee on Population and Development (PLCPD), and Metro Pacific Tollways Corporation (MPTC), the UP National Center for Transportation Studies (UP NCTS) has been an active partner with UNICEF in this project, facilitated through the UPNCTS Foundation (UPNCTSFI).
The Healthy Pilipinas Awards aim to recognize the essential efforts of development partners, civil society organizations, and other government and private entities dedicated to enhancing health promotion. Under the Health Promotion Framework Strategy (HPFS) 2021-2030, these contributions are vital in promoting healthier settings and behaviors aligned with the vision of achieving a Healthy Pilipinas.
These awards signify the critical role of civic engagement and collective efforts in fostering a healthier nation. The partnership of the Healthy Pilipinas Awards for Partners with the Galing Pook Foundation's Citizenship Awards aims to acknowledge individuals and civil society organizations that actively work towards promoting a healthier and better Philippines.
The joint initiative of the Healthy Pilipinas Awards for Partners and Galing Pook Citizenship Awards honors the dedication, innovative strategies, and solutions of these individuals and groups, essential in shaping a Healthy Pilipinas for the future.